Have you ever wondered about your cat's genetic background? Maybe you want to know which breeds might make up her genes, or are curious about whether or not her coat color influences her personality. Perhaps you'd like to find out if she has any genetic health conditions so you can be proactive about preventing them from manifesting. Having a DNA test done on your cat can answer all these questions and more – and it can also contribute to our scientific understanding of the feline genome.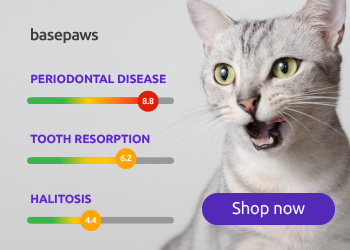 In an article I wrote for Animal Wellness Magazine, I explored the ins and outs of DNA testing, and how your cat's DNA can advance science and help other cats.
Click here to read DNA Testing Tells You a Lot About Your Cat – And It's Also Important to Science.
I had Allegra's DNA tested by Basepaws three years ago, and the results were fascinating.
I found the Health Markers results especially helpful.
To order a DNA Test for your cat, visit Basepaws.com.
Image Pixabay
FTC Disclosure: Purrs of Wisdom is an affiliate partner of Basepaws. This means that if you decide to purchase through any of our links, we get a small commission. We only spread the word about products and services we've either used or would use ourselves.